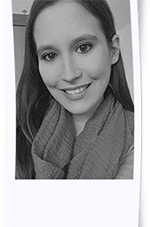 Cordula Eggerth, BA BSc BSc MA MSc
Studium: Bachelor Wirtschaftsinformatik
Was war das Thema Ihrer Bachelorarbeit?
"Development and Implementation of a Wiki-Concept for Managing Knowledge of the OMiLAB"
Was waren Ihre Gründe für ein Studium der Informatik an der Universität Wien?
Ich habe bereits vor dem Informatikstudium Wirtschaftswissenschaften in Wien studiert. Darüber hinaus hat mich Informatik immer interessiert – ich hatte aber keinerlei Bezug dazu, da ich mich seit der AHS-Matura auf Wirtschaft konzentriert hatte. Weil ich aber gerne meine eigenen Ideen bezüglich Computeranwendungen umsetzen wollte, sah ich das Informatikstudium als eine gute Möglichkeit, die dafür notwendigen Fähigkeiten und noch viele technische Aspekte mehr zu erlernen.
Was hat Ihnen am Studium am besten gefallen?
Im Informatikstudium hat mir am besten gefallen, dass man kreativ sein kann und Ideen (z.B. für eine Web Application) selber umsetzen kann – von der Architekturplanung und Modellierung bis hin zur Programmierung. Gleichzeitig lernt man auch die theoretischen Grundlagen.
Was würden Sie einem/r Studienanfänger*in empfehlen?
Man sollte sich als Studienanfänger*in von Beginn an laufend mit der Materie beschäftigen. Eine gute Basis in den ersten Semestern wird sich im späteren Verlauf des Studiums als hilfreich herausstellen.
Was muss man als Studierende/r dazu beitragen, um unter die besten Bachelor-AbsolventInnen des Jahres zu kommen?
Man sollte auf jeden Fall eine Leidenschaft für das Fach mitbringen, sich selber gut und gerne komplett neue Aufgabengebiete beibringen können und ein gewisses Organisationstalent mitbringen.
Was sind Ihre unmittelbaren Pläne für die Zukunft?
Ich habe neben dem Informatikstudium auch Statistik studiert. Mein Ziel ist es, die beiden Fächer beruflich zusammenzubringen. Daher arbeite ich sowohl im Bereich Statistik als auch Informatik in der Lehre an der Universität Wien. Daneben arbeite ich in der statistischen Programmierung.