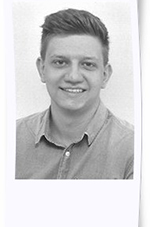 Claus Hofmann, BSc
Studium: Bachelor Informatik
Ausprägungsfach: Data Science
Was war das Thema Ihrer Bachelorarbeit?
"Particle Tracking at the CERN Large Hadron Collider with Recurrent Neural Networks"
Was waren Ihre Gründe für ein Studium der Informatik an der Universität Wien?
Ich entschied mich für ein Informatikstudium, da mich dieses Thema schon immer interessiert hat. Es war und ist für mich faszinierend, welche Möglichkeiten der rapide Fortschritt auf diesem Gebiet mit sich bringt. Vor allem, wenn man bedenkt, dass ein Computer, der vor wenigen Jahrzehnten noch einen ganzen Raum ausfüllte, heute in eine Hosentasche passt. Für die Universität Wien entschied ich mich, da man sich an der Uni Wien am Anfang des Studiums einen Überblick über die angebotenen Ausprägungsfächer der Informatik machen kann. Man muss sich erst im späteren Verlauf des Studiums für ein Ausprägungsfach entscheiden. Das war mir wichtig, da ich, als Maturant eines Gymnasiums vor Beginn meines Studiums relativ wenig Kontakt zur Informatik als Schul- bzw. Studiengegenstand hatte.
Was hat Ihnen am Studium am besten gefallen?
Sehr gut gefallen hat mir definitiv der hohe Praxisbezug des Studiums. In beinahe jedem Modul gab es für die Studierenden auch etwas Praktisches zu tun, wie etwa die Planung und Implementierung eines einfachen Online-Auktionshauses. Ich fand es spannend, selbst oder in Gruppenarbeit eine Lösung für das ein oder andere Problem zu finden.
Was würden Sie einem/r Studienanfänger*in empfehlen?
Was, denke ich, im späteren Verlauf des Studiums viel hilft, ist, wenn man besonders am Anfang des Studiums sehr aktiv ist und neue Inhalte übt, bis man sie wirklich kann, insbesondere, wenn man nicht von der HTL Informatik kommt. Es kann sogar sein, dass es Spaß macht, neue Dinge zu entdecken.
Was muss man als Studierende/r dazu beitragen, um unter die besten Bachelor-AbsolventInnen des Jahres zu kommen?
Da gibt es, denke ich, kein wirkliches Rezept. Ein Aspekt, der dabei helfen könnte, ist aber meiner Meinung nach, dass man Spaß am Studium hat.
Was sind Ihre unmittelbaren Pläne für die Zukunft?
Zunächst möchte ich mein Masterstudium hier an der Universität Wien abschließen. Für die Zeit nach dem Master habe ich noch keine wirklich konkreten Pläne.